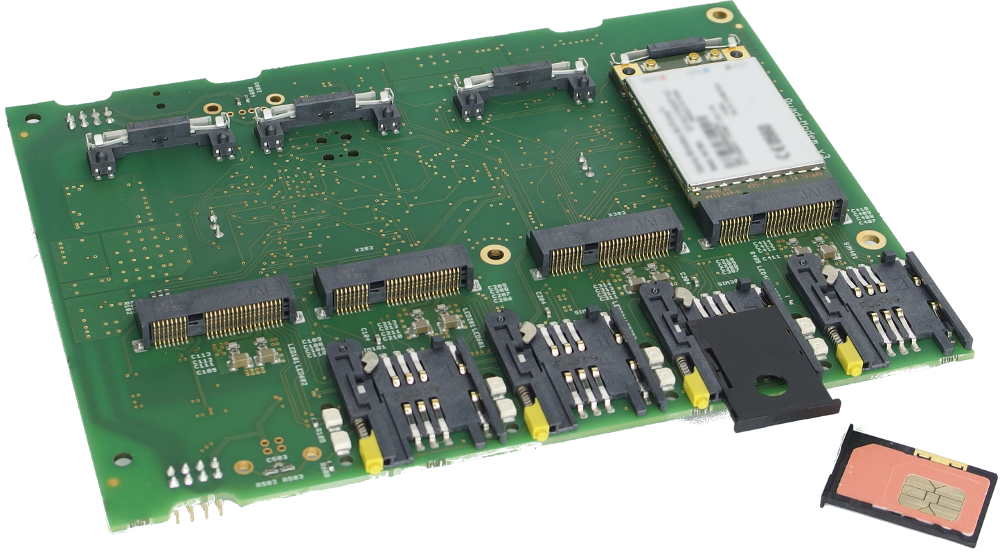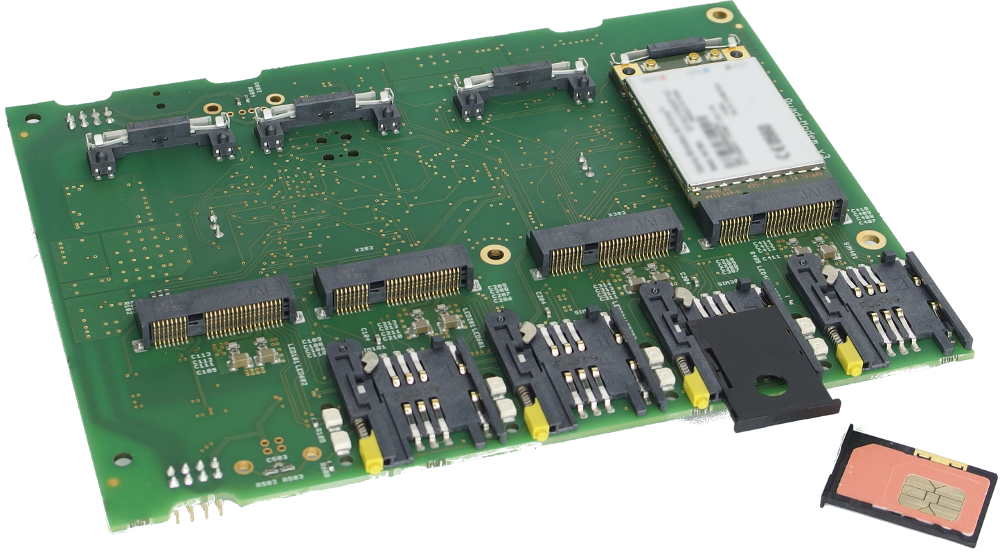 Available, lead time 1-2 weeks
Product number:
sysmoQMOD-evk
Product information "sysmoQMOD evaluation kit"
The sysmoQMOD is a quad mPCIE modem carrier board with integrated management and remote SIM forwarding capabilities. Targeted users are system integrators who use the sysmoQMOD to build their own products, such as remote nodes for cellular network quality monitoring or roaming testing. Multiple cellular modems connected to a single USB port / USB host can be used in a variety of applications, such as
least-cost routing of voice, SMS or data services to different cellular networks of different operators

load-balancing of data traffic across multiple cellular connections

remotely deployed systems for automatic remote roaming probes, providing roaming testing services to operators – particularly in combination with the remote SIM functionality.

remotely deployed systems for service / QoS testing of cellular networks

test equipment for interoperability, load and functional testing of cellular infrastructure equipment.
The edge loaded SIM slots and the LEDs with light-guide option allow the PCB to mount in very flat cases with front operation and even to stack multiple PCB to very dense solutions with more than only 4 modems. All connectors are daisy chained for easy assembly of solutions with multiple PCB. This is also reflected in the options to mount different power supply and USB connectors.
Monitoring and control of the modems is realized via two USB-attached onbard microcontrollers. They allow to reset the modems, monitor the WWAN LED and also to reset the USB hub. Power cycling of all modems is realized via standard USB hub power control. Above features allows the continuous unattended operation of the sysmoQMOD in remote sites with no physical access.

sysmoQMOD will be delivered without WWAN modulsl. Suitable mPCIE modules for 2G/3G/4G are available from brands like u-blox, Huawei, Sierra Wireless, Quectel, SIMcom or Gemalto.

In addition to the USB connection, the sysmoQMOD exposes the PCM audio interface of selected modems on connectors, enabling system integration with external digital voice components. JTAG and serial connectors for the SAM3 microcontroller are provided for development and debugging firmware and applications. The sysmoQMOD allows also in field reprogramming of it's firmware and USB parameters. The complete firmware and host software components are Free / Open Source Software (FOSS) and can be found at https://gitea.osmocom.org/sim-card/simtrace2 .

Evaluation Kit

The Evaluation Kit (EVK) is intended for your to evaluate the product for your project, before placing any quantity orders at related project quantity pricing at sysmocom.

It consists of:
1x sysmoQMOD PCBA
1x 12V/3A desktop power supply
1x USB A-B cable for attaching the sysmoQMOD to your USB host computer
2x replacement SIM drawers
4x 2FF/3FF/4FF SIM adapters
8x U.FL to SMA pigtail for your cellluar modems
Further Reading